1st Cytology Workshop in León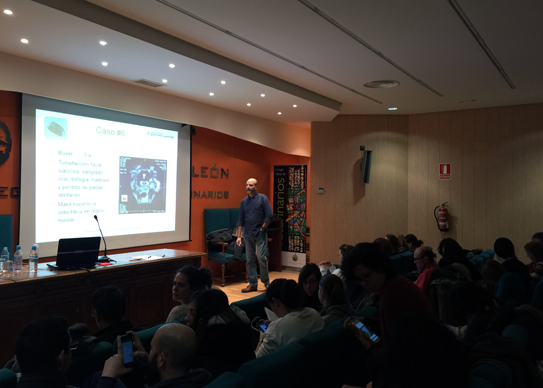 Under the name Oncological Cytology Basis, the Official Veterinary School of León started its 1st Cytology Workshop where, last January 30, our head of the Veterinary Pathological Anatomy Unit, Daniel Borrás Murcia, participated as a speaker.
The Workshop was held in the Assembly Hall of the Official Veterinary School in León where, at least 70 professionals attended the conference. The lecture started with a theoretical part where they went over the cytological criteria that allows to identify the neoplastic process, as well as the benignity/malignity cytological criteria. Following, they switched to a more practical part where the analyzed real cases and they were taught how to distinguish and analyze the most common neoplasms which can be found in clinical.
Daniel Borrás Murcia graduated in Veterinary at the Univesidad Autónoma de Barcelona (UAB). In 1999 he founded and directed a laboratory, named Citopat Veterinaria, which was dedicated to the anatomopathological diagnosis and since 2012 he is in charge of the Veterinary Pathological Anatomy Unit at Echevarne Laboratory. He is the author of many theses in the Pathological Anatomy field which have been published in national and international magazines, as well as numerous books related to Cytology. Likewise, he has taken part in many congresses and has offered courses and sessions for clinic veterinaries.
Return