46th National Podiatry Congress
Last October Albacete held the 46th National Congress of Podiatry. Dr. David Poyatos, Product Specialist Area Laboratory of Molecular Echevarne, participated in the panel discussion moderated by Dr. Daniel López López (Professor of the School of Podiatry at the University of A Coruña), and was able to share with the audience podiatry applications of Platelet Growth Factors.
Dr. Poyatos spoke about the regeneration process of tissue injury mediated by platelets, highlighting the important role of platelet growth factors in this process and their use in regenerative therapies.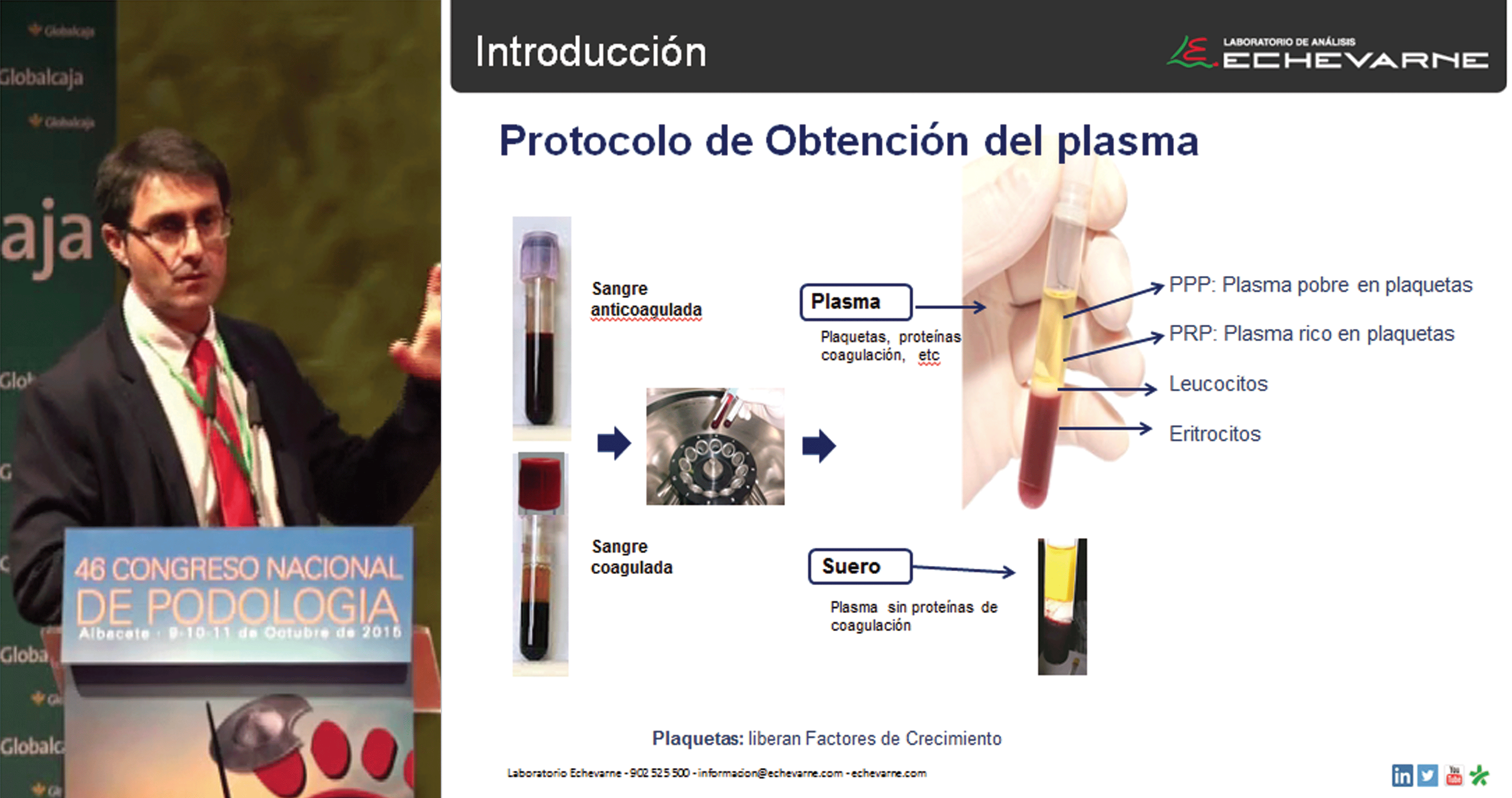 Platelets also participate in coagulation, release growth factors and other molecules that act locally as messengers in cell regeneration. This property favors the development of regenerative therapies based on the use of platelet concentrates obtained from centrifugation of blood from the patient, to treat different kinds of lesions.
Echevarne Laboratory participates in the preparation of a concentrate of Platelet Growth Factors, called Autologous Regenerative Agent (ARA), with innovative technology, patented by Regennia Laboratories. An analysis of endotoxin and sterility ensures compliance with the quality requirements of the Spanish Agency for Medicines and Health Products (AEMPS) for delivering a personalized, safe and effective treatment, ready for its use.
During the presentation, there were appointed the advantages of ARA as a product suitable for incorporation into treatments based on Platelet Growth Factors, used baring medical applications, including podiatry. The ARA offers an alternative to the infiltration of corticosteroids, hyaluronic acid or collagen therapy, reducing the inflammation, pain and recovery time when using infiltration in the injury.
The infiltration of Growth Factors represents a suitable option to improve recovery or repair of muscle, tendon, ligament, cartilage or bone injuries.
David Poyatos, born in Almería, started his career in Biology at the University of Granada and completed it at the Autonomous University of Barcelona (UAB), where he conducted his doctorate in Cell Biology and Genetics, under the name Cytogenetic and Molecular Syndrome Prader-Willi and Angelman. In 1999 he joined Echevarne Laboratory, developing its activity in the units of Cytogenetics and Molecular Genetics. He is currently a Product Specialist of the Molecular Development Department.
Return