Echevarne Laboratory collaborates in Antena 3's new program
Antena 3 launched last January 23 a new program "Mitos de los alimentos" where Alberto Chicote investigates whether or not some of the most common myths about some foods in our diet are true.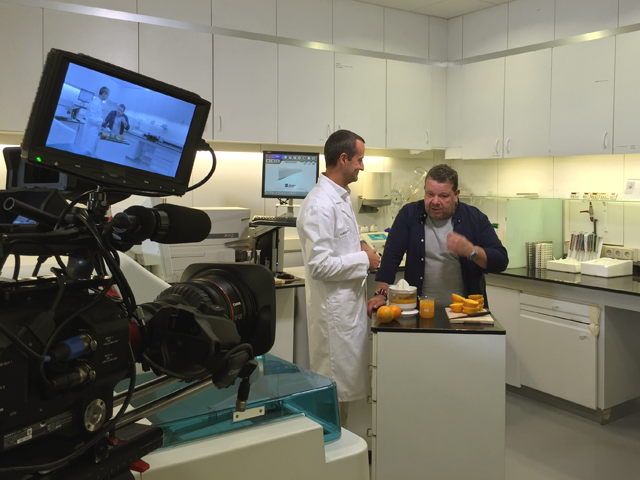 Echevarne Laboratory participated in two of the proposed experiments: in the first place, finding out if the orange, once squeezed, loses its Vitamin C over time. Assisted by our Technical Director of the Industrial Area, Juan Antonio Calzado, the vitamin C of an freshly squeezed orange juice was isolated to check if the concentration changed within three, six and twelve hours. We found out that the amount of this vitamin did not change in any of the measurements. Therefore, the myth that says that you have to drink quickly the freshly squeezed orange juice because if not it loses its vitamins was denied.
In the second experiment, we analyzed the nutritional composition of an apple, for which the fiber was isolated, both in the skin and in the pulp. The results confirmed that, while the number of vitamins is similar throughout the piece, the fruit skin contains a bigger amount of fiber than that the pulp. In this case, it was found that the myth that it is better to eat the fruit with skin does have a scientific basis.

Return